Introduction
Convertr has the ability to connect directly to Hubspot's API and create contacts within Hubspot using their Private Apps feature.
With our Hubspot Integration, we take advantage of the Create Contact API or the Create/Update Contact API to submit our lead data into Hubspot as a contact.
Please note, this integration does not submit data to a Hubspot form. For this, please see HTTP Integration Examples: Hubspot Forms.
Prerequisites
Hubspot Access Token (you will need the correct permissions. Please see the Required Scope on the Hubspot documentation linked above)
Hubspot REST API fields
Finding the Prerequisites in Hubspot
1. First you will need to obtain the Access Token. Within your Hubspot instance select the Settings icon in the top right hand corner

2. In the left navigation bar scroll down to Account Setup > Integrations, then select Private Apps from the dropdown menu.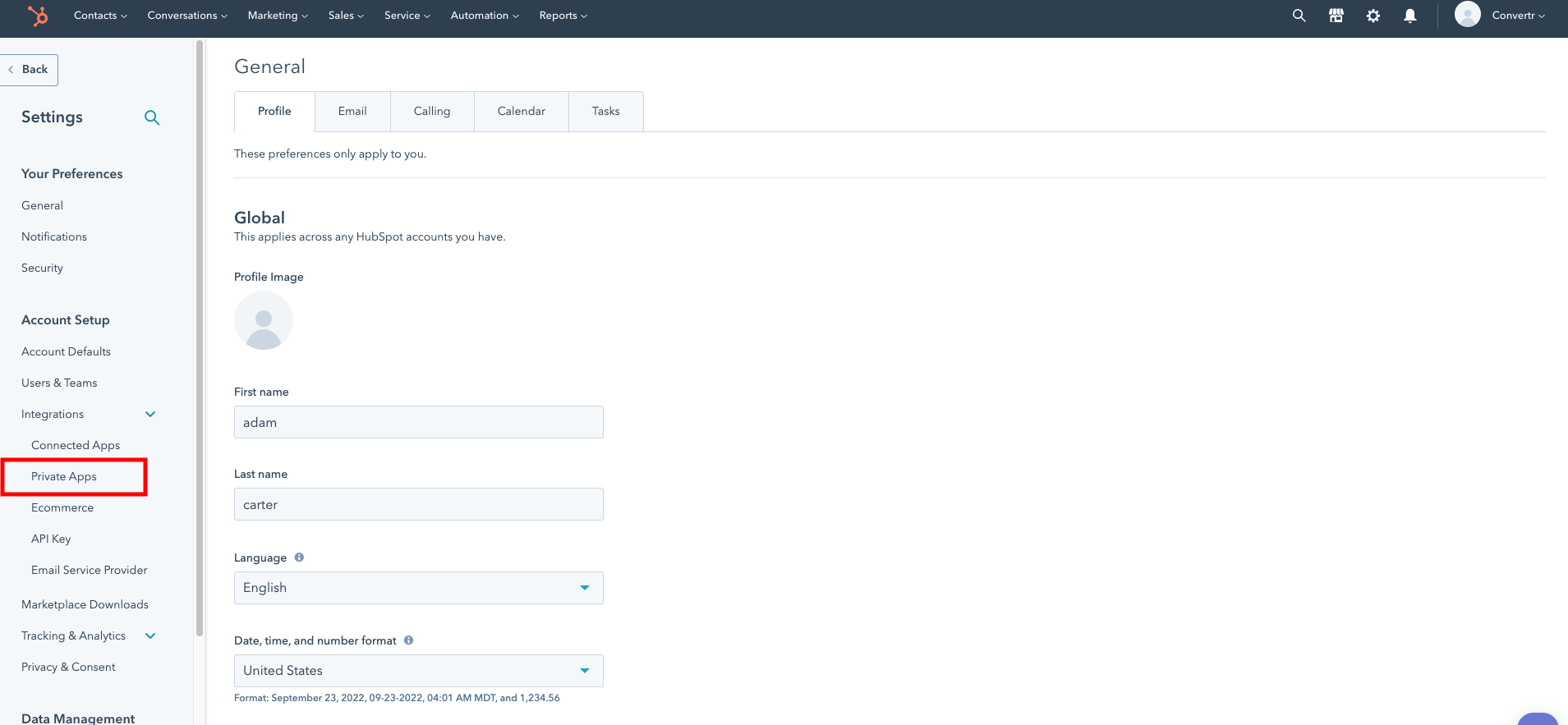 3. Click Create Private App.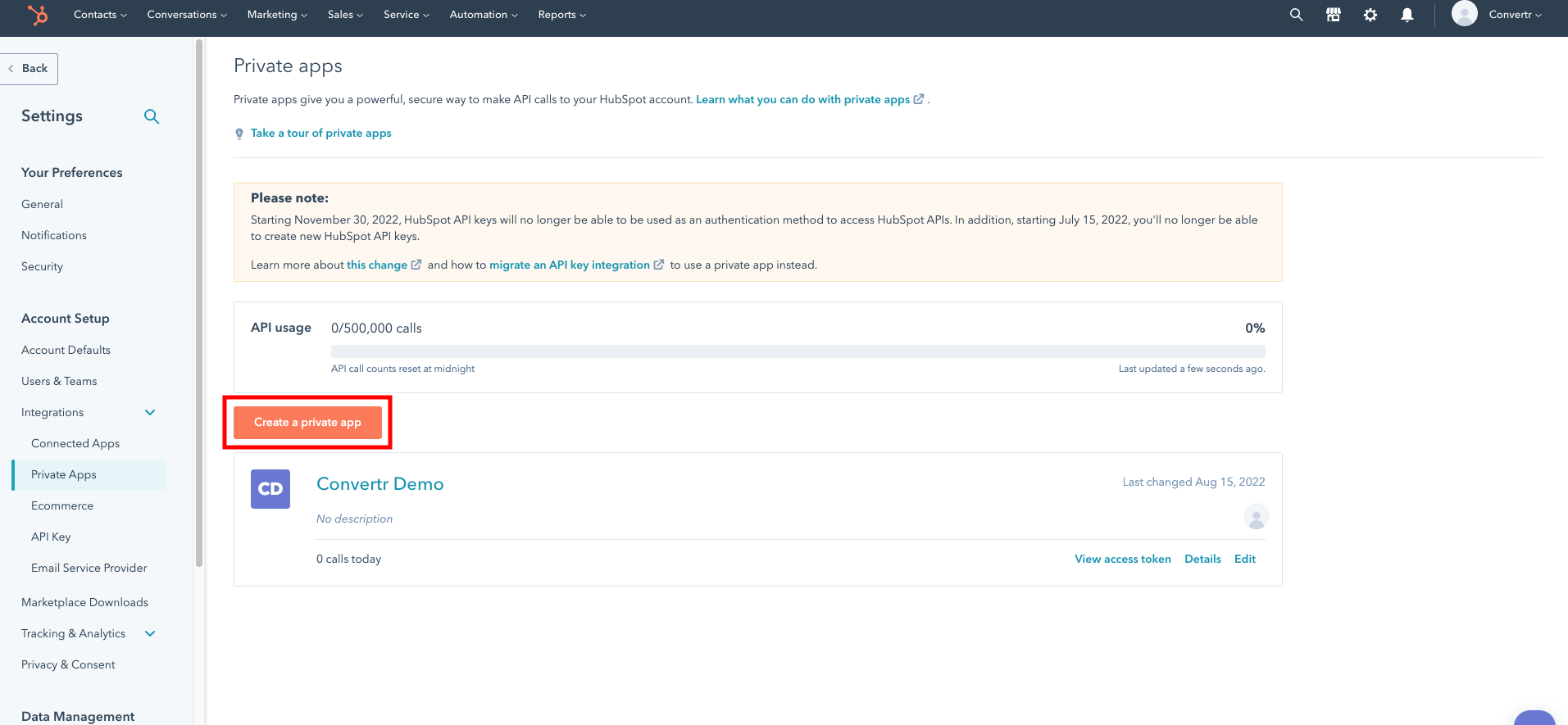 4. Fill out the Basic Info section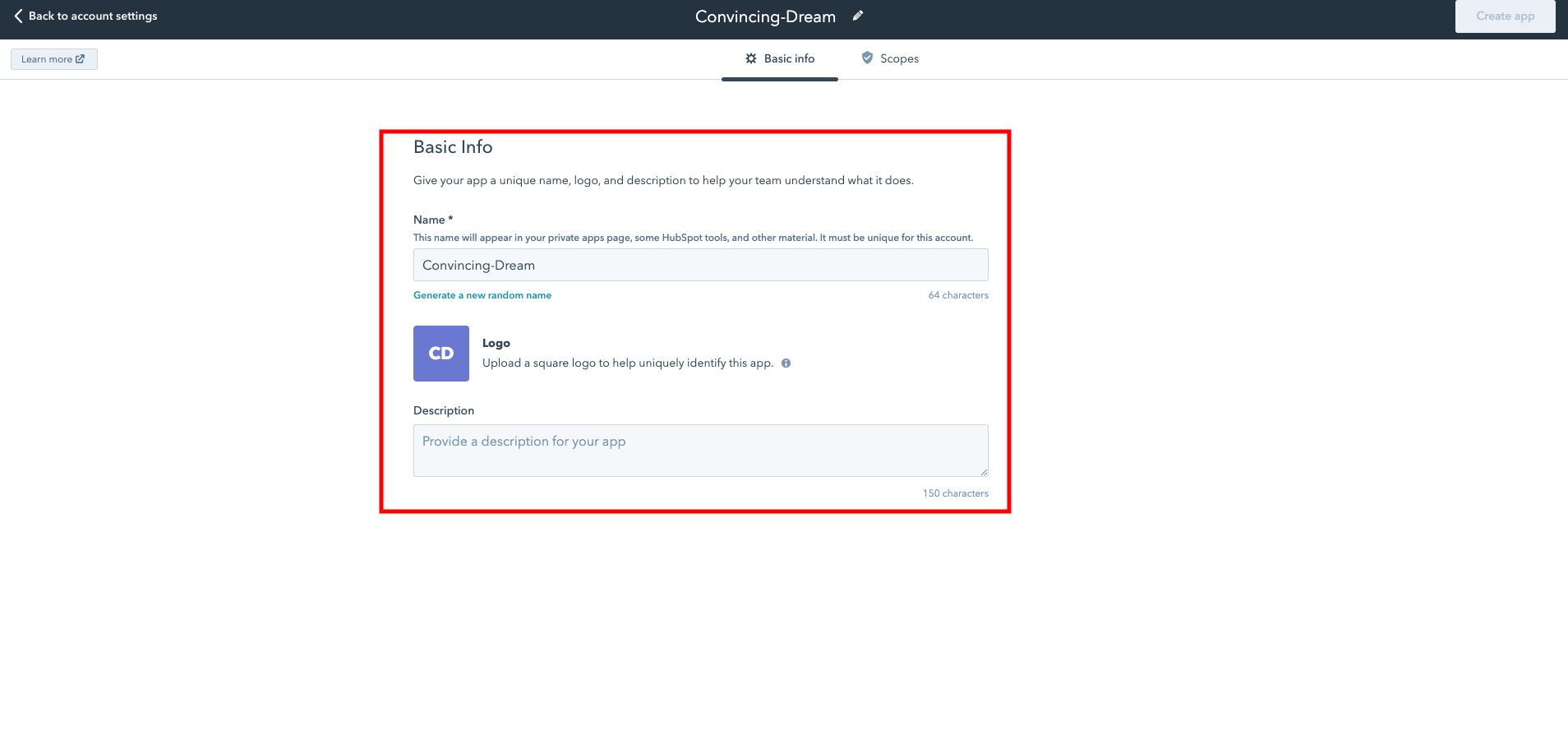 5. Select crm.objects.contacts with WRITE permissions when creating the scope, then click Create App.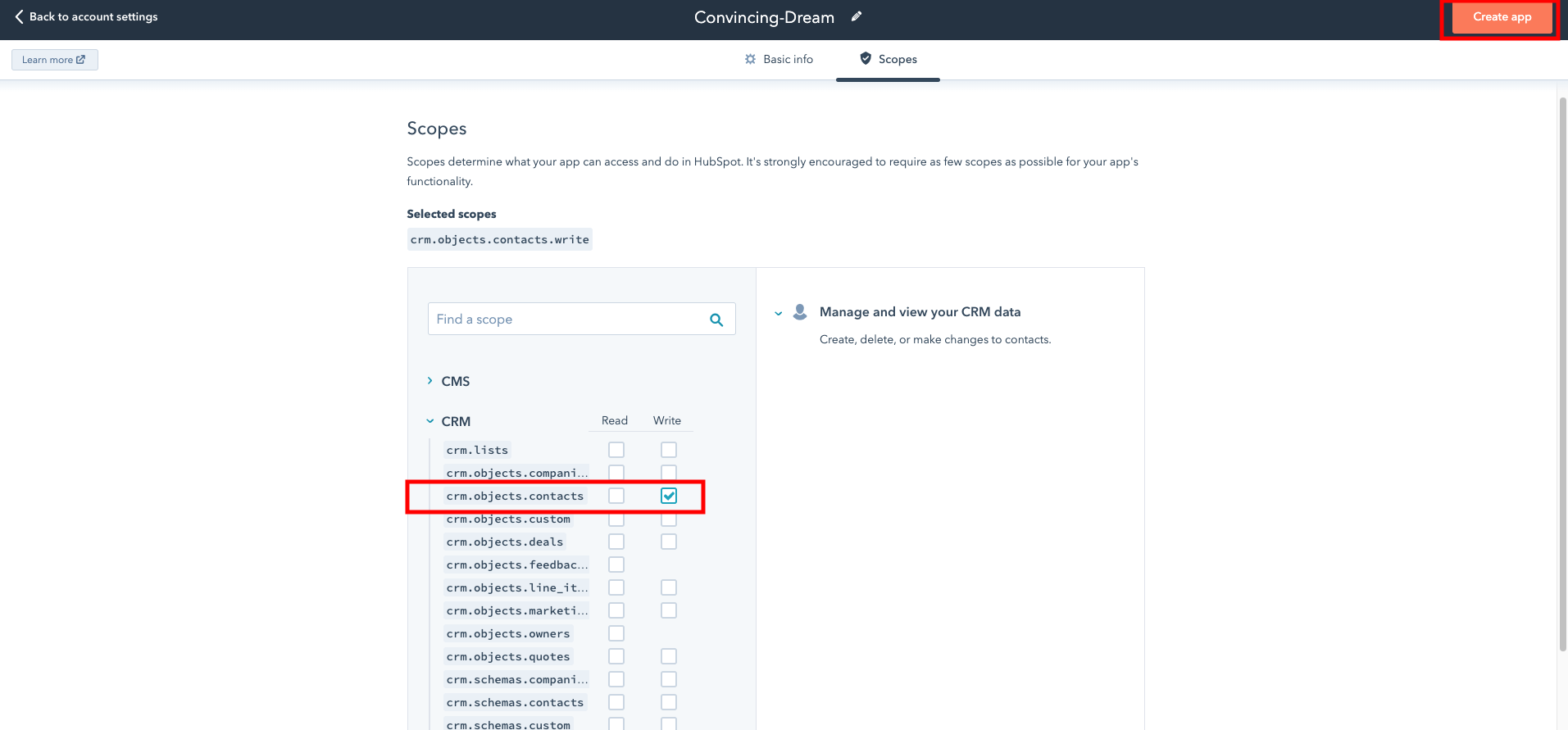 6. Acknowledge you are creating a new Private App and click Continue Creating.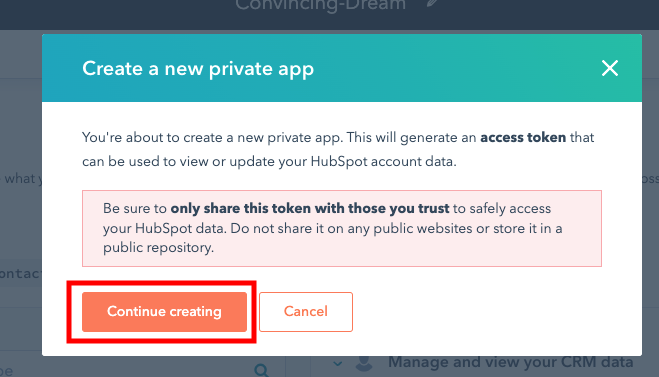 7. Click 'Go to app details' once your app has been created and an access token generated.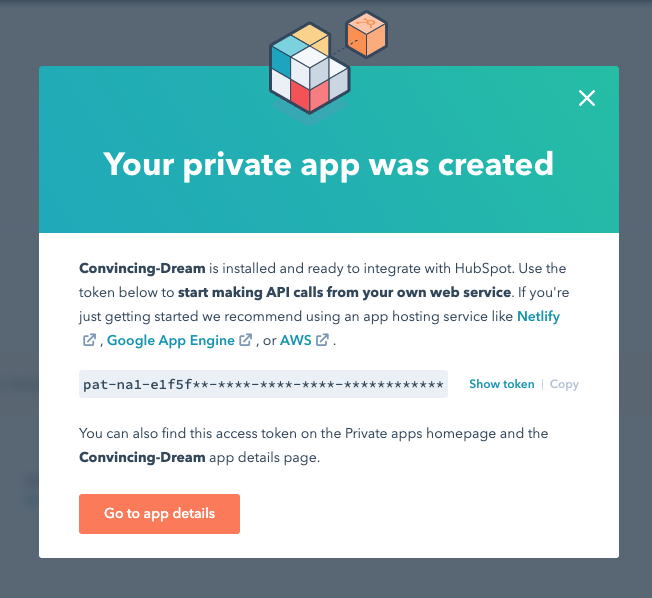 8. Within the app, click Show Token to reveal the full Access Token.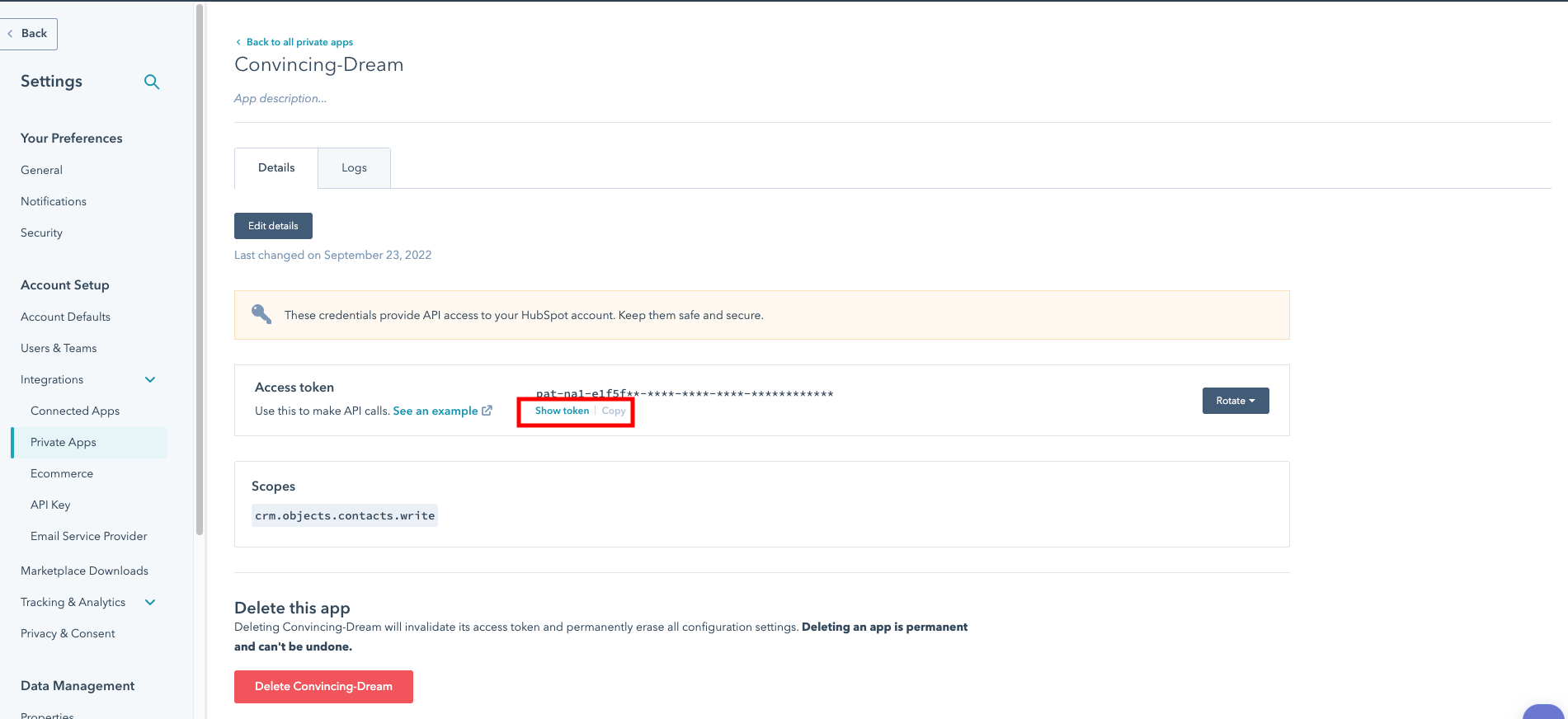 Setup In the Convertr Platform
1. Within the Convertr campaign, navigate to Processr > Integration. Click Add Job, and then select Hubspot Integration

2. Copy the Access Token and paste it into the accessToken field in the API section.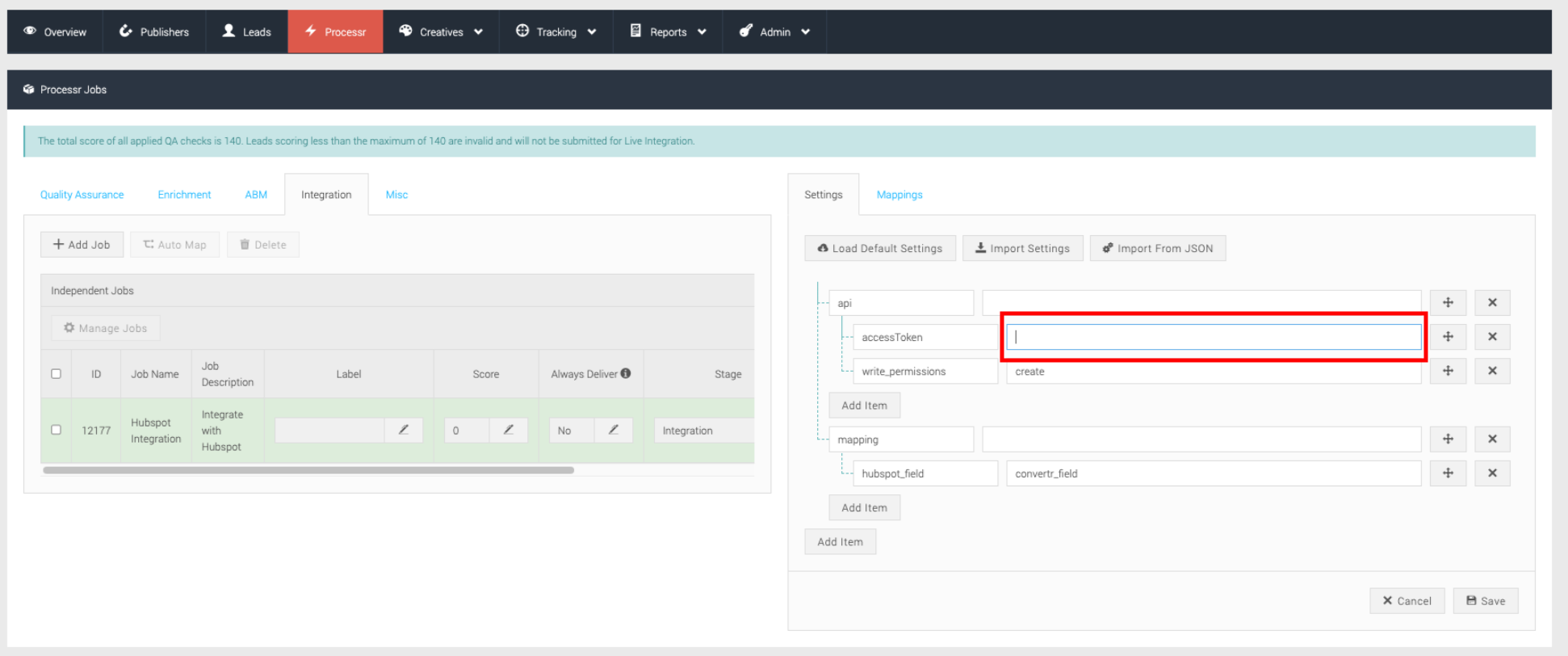 3. Enter your write permissions. This can be either:
Create: This will create a new contact in Hubspot. If the email address matches a lead that already exists in Hubspot, then the integration will fail.
Create or Update: This will create a new contact, however if the email address matches a lead that already exists in Hubspot, then we will update that lead instead.

4. Next is the mapping section. Here you will map the Hubspot REST API names to the Convertr field names. Enter the Hubspot fields against the Convertr fields as shown below:

To add additional fields, select Add Item.
Please note: you do not need the first row as this is just a guideline.

5. Once complete, select Save.