Overview
The Auto Map feature allows quick and easy functionality to map Processr jobs. This document will take you through the process of how to use this feature.
Setup Process
1. Within your campaign, select Processr.

2. Select the box next to the jobs that you wish to add map. Alternatively, select the tick box within the table headings to select all jobs.

3. Click Auto Map.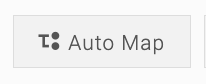 4. The Green 'Mapped' icon indicate that the mapping has been configured.

Any unmatched jobs will have an Orange 'Unmapped' Icon.