Whitepaper Listing
Within your campaign, navigate to Creatives and then click Whitepapers to see your whitepaper listing.

Whitepaper Assets
The Whitepaper Assets panel will show all the whitepapers uploaded to this campaign. There are various settings to allow editing and setup of your whitepapers.
Upload

Allows the upload of a new whitepaper to the campaign

Select

Bulk edit the status (enabled/disabled) of whitepapers and also link landing pages

Enable/Disable

Enable or disable whitepapers for your campaign

Bulk Edit

Edit whitepaper settings and configurations in bulk

Delete

Remove a whitepaper from your campaign
Uploading a Whitepaper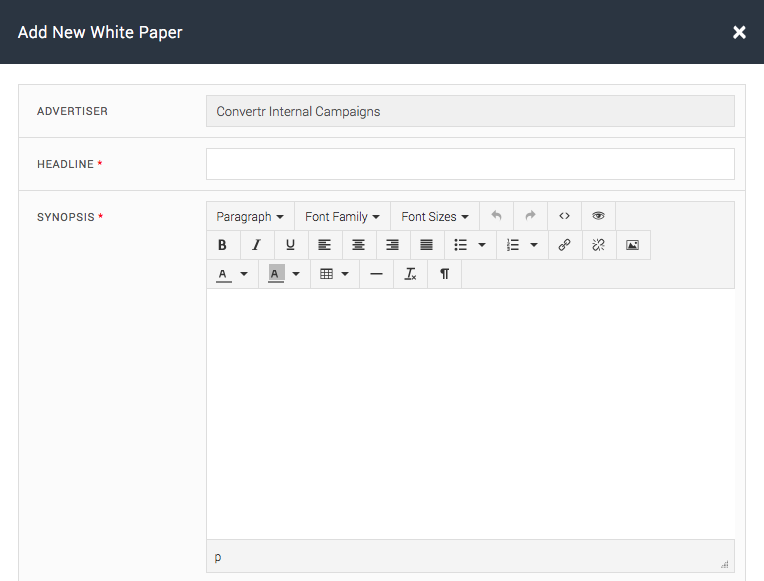 Click the Upload button to create a new whitepaper within your campaign. This modal shows various settings for your new whitepaper.
Headline

The title of your whitepaper

Synopsis

A brief description of the whitepaper - this is only visible on whitepaper library websites

Descriptions

Content that will appear in the whitepaper's body

Use Advertiser Logo

Choose to override the whitepaper logo with the logo uploaded for the campaign advertiser

Whitepaper Thumbnail

A preview of the whitepaper download, normally a screenshot of the front page

Whitepaper Download

Upload your downloadable asset which becomes available upon whitepaper form completion

Publish Date

The date for the whitepaper to go live

Position

Position of the whitepaper within the content block

Content Block

Used to promote featured whitepapers

Categories

Group your whitepapers into categories

Landing Page

The landing page which will host your whitepaper
Lead Data
You can see all whitepaper information on the Lead Data > Profile screen: