Overview
Forms are a way of capturing lead data into the platform. Forms can be used as templates and applied to multiple campaigns, and can be edited as required. This document will take you through the process of importing a form.
Form Import Modal
Within your campaign, navigate to Creatives>Forms. Click the Import Form button to import your form. This page also shows the form listing table which allows the viewing, editing and removing of all previously-created forms within the campaign.

Importing a Previously Created Form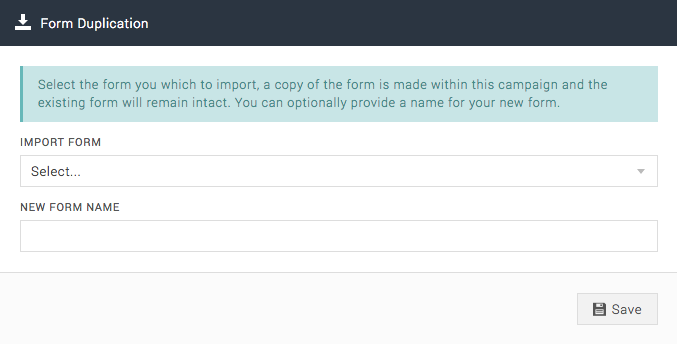 The Import Form modal has a few fields to complete before you form can be imported into your campaign.
Import Form

Select the previously created form you would like to import into this campaign.

New Form Name

Name the newly imported form - this will not affect the name of the original form.

Save Button

Save your form to complete the import process. Any changes made to this newly imported form will not affect the original.
Editing Your Imported Form
Editing your imported form works the same way as editing a newly created form. It will not affect the original form, as it acts as its own separate entity.