What is Data Masking?
Data Masking is the ability to hide Personally Identifiable Information such as email and telephone number.
How does this work on the Convertr Platform?
By activating Data Masking on the platform, you have the option to hide Personally Identifiable Information from agency users without affecting typical campaign management.
The only difference is that when Agency Users view leads, they will only be able to see the lead generator and the Lead ID, but no other details are revealed.
This is what an Agency User will see when data masking is activated:

We recommend using this feature as you should always be making efforts to ensure your lead's privacy while using the platform.
In fact, to help you with best practice, Convertr activates Data Masking by default every time you add an agency to the platform.
How it Works

How it Helps

Every Agency setup has the option to mask lead data from the users in that Agency.

This gives the campaign manager full access to the tools they need to manage campaigns but with a fully masked view of Personally Identifiable Information (PII).

Best Practice: As data controllers and data processors are both equally liable for protecting the personal data, we have a useful tool for helping you ensure your lead data is secured even whilst interacting with the campaign around them.
Data Protection by Design and Default: To make set-up easy, we've activated data masking by default for every new agency. It's also been designed in a way that makes data protection a standardised practice in day-to-day campaign management: you can continue to use the platform as you would normally even with masked data.


Masking Lead Data from Agencies
Please note: Data Masking is enabled by default and will be automatically activated every time you set-up a new agency.
1. On the platform dashboard, go to Agencies.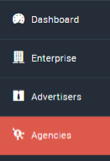 2. Click View next to your chosen agency.

3. In the bottom right of the Edit Agency page, there is a data masking option.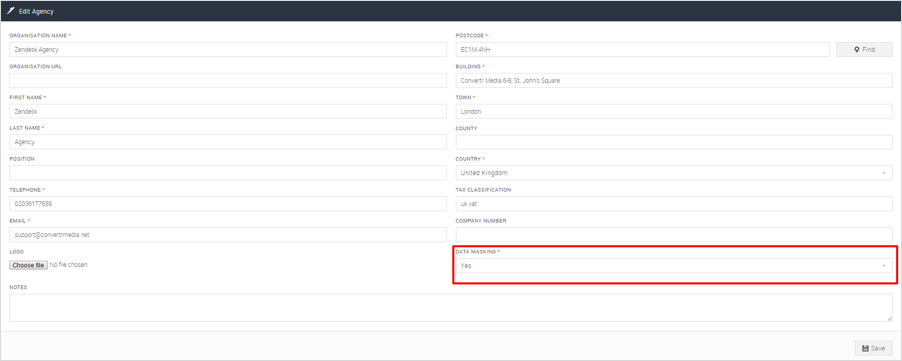 If you set this to Yes, then all users assigned to this agency will not be able to view the full lead data.
If set to No, then all users assigned to this agency will be able to view the full lead data.