What is the Subject Access Request Tool?
The Subject Access Request tool allows you to search the entirety of your Convertr database for a single user by either telephone number or email address.
How it Works

How it Helps

If you search for a user using their email or telephone number, the platform will instantly return all associated data (including enrichment data) about the individual.
This data can be downloaded to pass back to the person who requested the information.
We also have the functionality for the data to be permanently removed (without affecting operational reporting).

Right to access: Under GDPR users have the right to access data you have stored about them in a fast, free and efficient manner which should be available in an electronic format.
Right to erasure: Also known as the "right to be forgotten", a person can request you delete their data, and even ask you to stop third parties processing the data (see suppression below)
GDPR also introduces data portability, allowing them to request the data and move it to another data controller in a common data format (e.g. CSV file)
Fulfilling a Subject Access Request
1. Find the Subject Access Request tool.
On the campaign dashboard, go to System and then select Subject Access Request.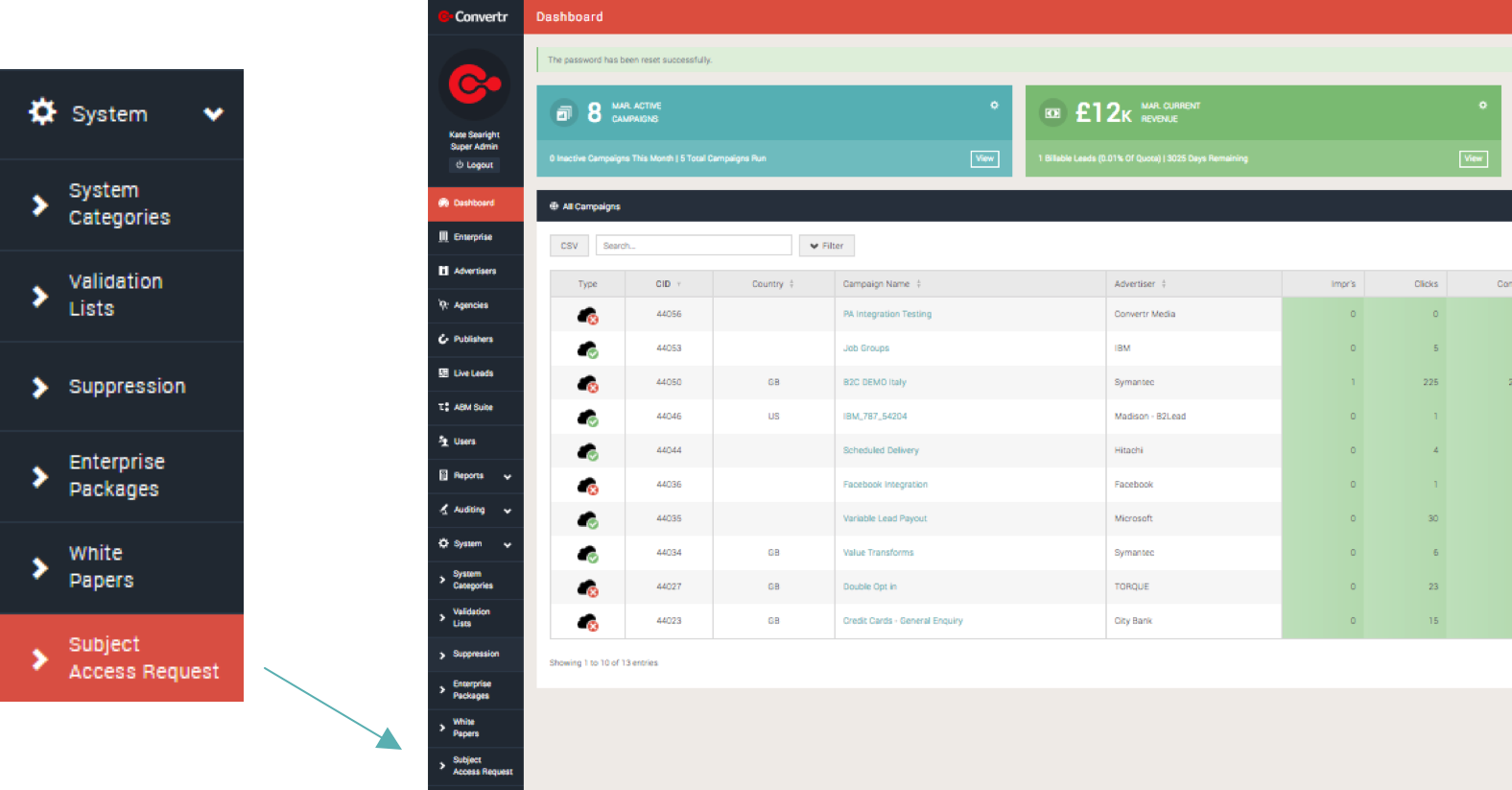 2. On this page, you can choose the drop-down menu to select Email or Telephone.

3. Enter the appropriate value for your choice in the Value field.


4. Click View. Below will be all the lead details for the lead containing the value specified.


5. At the top of the results section, you have the option to download the information. This will provide you with a copy of all the subject's information in a .csv file.

Erasing a Subject's Information from the Convertr Database
As well as being able to download a copy of all the information, you also have the option to delete it completely from the platform.

1. If you click Delete, Convertr will ask you to confirm your choice. Clicking Yes will delete the data for all the leads listed.

Once you have deleted a lead's details, they will still appear on the platform but all details will have the value Removed.

When you see this page, this means that all the data for that specific lead would have been removed from our database.