Overview
One of the ways that leads can be imported into the platform is by uploading a templated CSV file. You can generate your own form with custom fields, so that all the data you require is being captured. This document will take you through the process of creating your own CSV form.
Import From CSV Modal
Within the campaign navigate to the Creatives section, then click Forms. Click the Import from CSV button to import your form. This page also shows the form listing table which allows the viewing, editing and removing of all previously created forms within the campaign.

Form Import Settings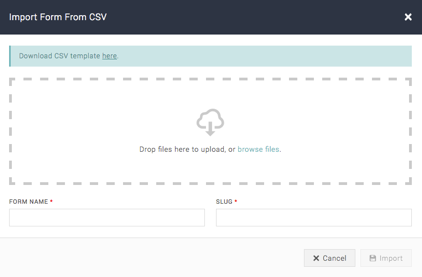 Within this modal a CSV template can be downloaded to get started. Once downloaded, complete the file with your desired form fields.
Dropzone

Once the CSV file contains the form fields you would like to import, drag and drop or select the file.

Form Name

The name of your form which will be shown on the form listing page and also the forms title.

Slug

Friendly form name which will be reflected in the form URL.